Processing a Refund
This video will show you how to process a refund with or without a customer receipt.
There are two ways to do a refund: reopening the order from Find Order or View Orders. The order number is mandatory when finding and retrieving an order.
First, you must re-open the order with the order number found on the receipt or within the system.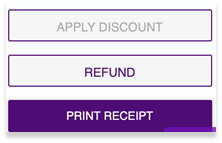 Once you've opened the order, click the Refund button located under the Payment Methods.